This page contains information about the cycLED project (especially its WP8). This European FP7 project aims to optimise the flows of resources across all the life cycle phases of LED products (DG Research, January 2012 – June 2015, 4.1 M€). Dr. Cédric Gossart was the principal investigator of the Work Package n°8 (« Analysing barriers to eco-innovation », 251 k€).
Documents available for download:
---

Date:   Thursday 19 May 2015 (11h00-13h00), prior to the Smart Lighting conference, to the Metropolitan Solutions conference, and to the final conference of the European project cycLED.
Objective: Provide solutions to policy makers and town planners seeking to support LED eco-innovation and the diffusion of ecodesigned LED technologies.
Participants: Policy makers, town planners, and other ecoinnovation and policy experts (government, municipalities, industry associations, …). Free of charge by invitation only (for contact details, see the programme).
Location: Meliá Hotel (central Berlin: Friedrichstraße 103), Berlin 10117, Germany.
Distant access (VoIP): The number of distant participants is limited to 25 (we will be online at 10h45). Distant participation enables listening to the presentations, seeing the slides in real time, and asking questions with the chat function. In order to connect to the meeting room, click here (detailed information on Distant access).
Background information: cycLED_D8.4_Policy brief-Feb-2016 (a summary article is available in French here).
Workshop output: Questions of participants will be answered during the workshop, and voiced to EU policy makers by means of an updated version of the policy brief, to be published by the European Commission's project cycLED. Live twits will be posted from https://twitter.com/cycLEDeer.
Agenda: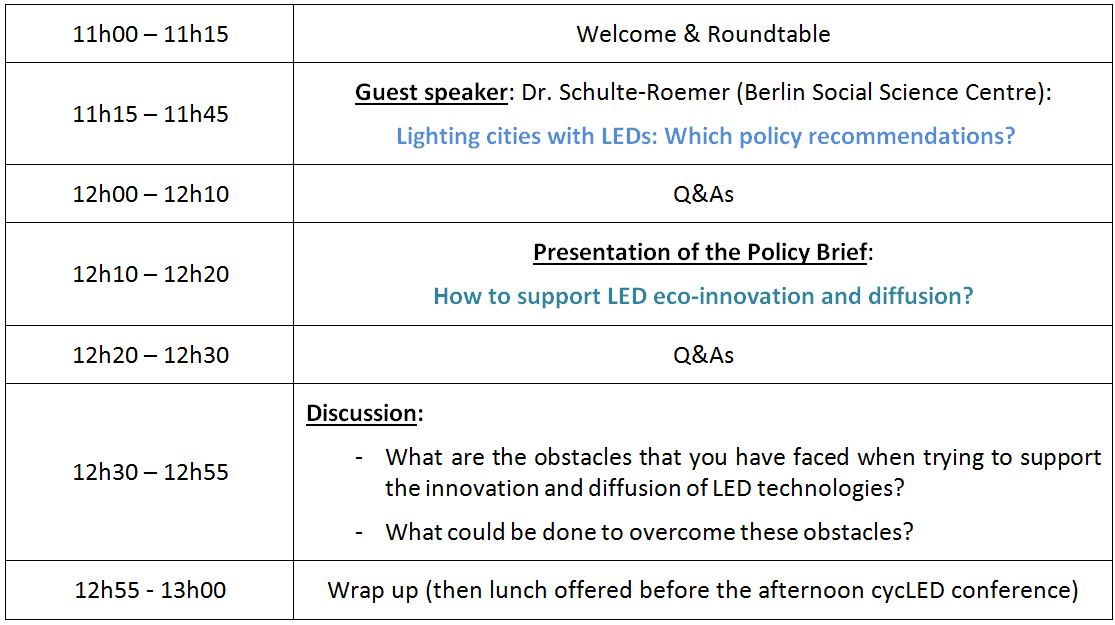 Download a pdf version of this programme; download the presentation of the policy brief and the audio recording of its presentation by Dr. Gossart (15′ long): audio policy brief.
Browse the website of our guest speaker Dr. Schulte-Roemer; download her presentation: Lighting cities and the audio recording of her speech (starts at minute 7): audio Nona Schulte-Römer.